Klik tukaj za Slovensko verzijo.♥
Strong chemical smells are increasingly present in our living environment in the form of detergents, cleaning supplies, fragrances for the home, cabinets, shoes… Because I am very sensitive to artificial fragrances I often get a headache, that's why every year I look forward to our garden lavender blooming. It smells divine and it is – of course – natural. I found a cute idea on how to pack lavender in such a way that it doesn't make a mess when it dries and crumbles, and also keeps it smelling good all year. I am presenting you this simple process and you can spice up a rainy afternoon and create your own natural lavender wand.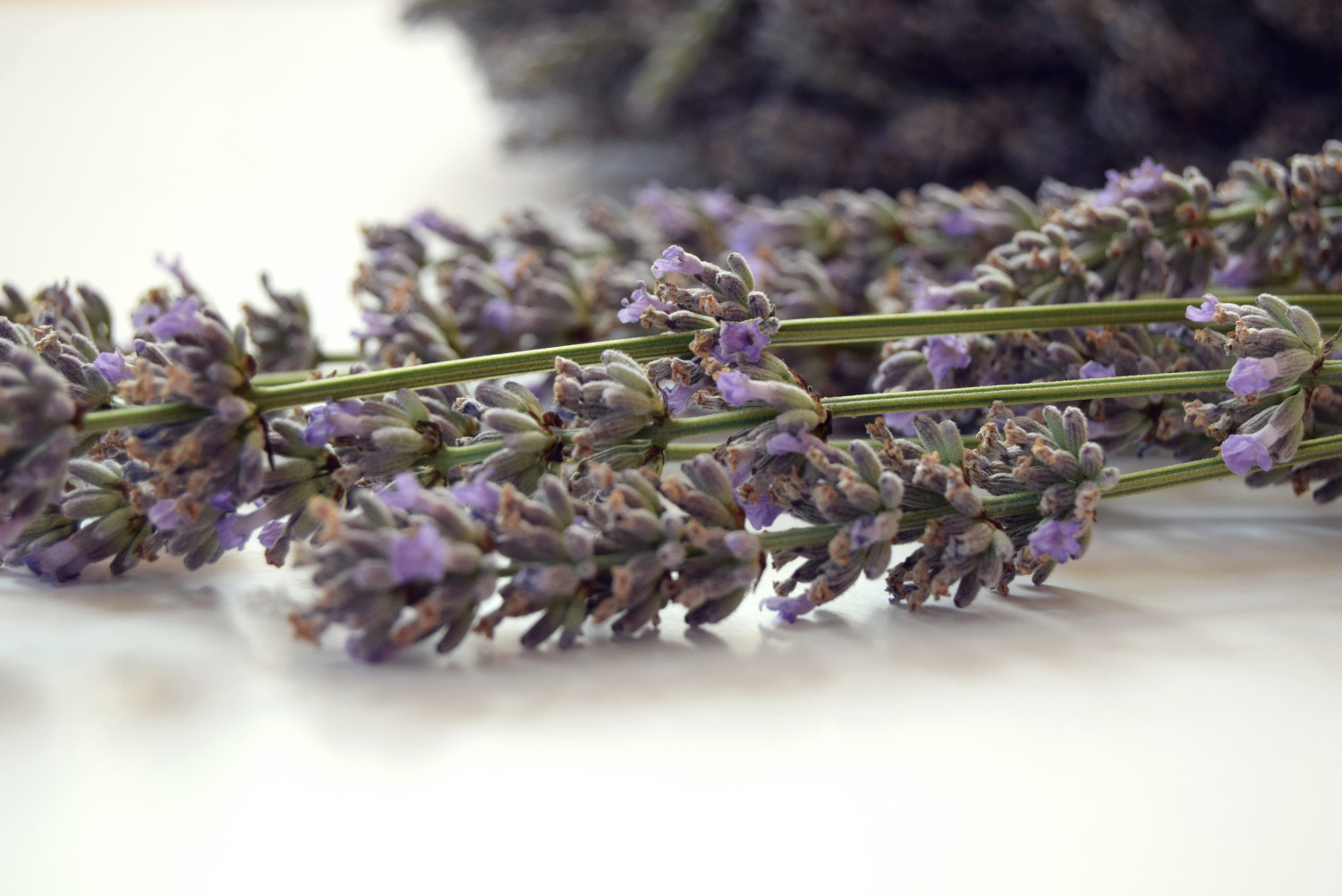 Making a wand will take you about half an hour.
Materials:
– Lavender (13 fresh stems)
– Decorative ribbons 170cm in length and 0.5 to 1cm thick (I used purple, for the color of lavender)
– A wooden stick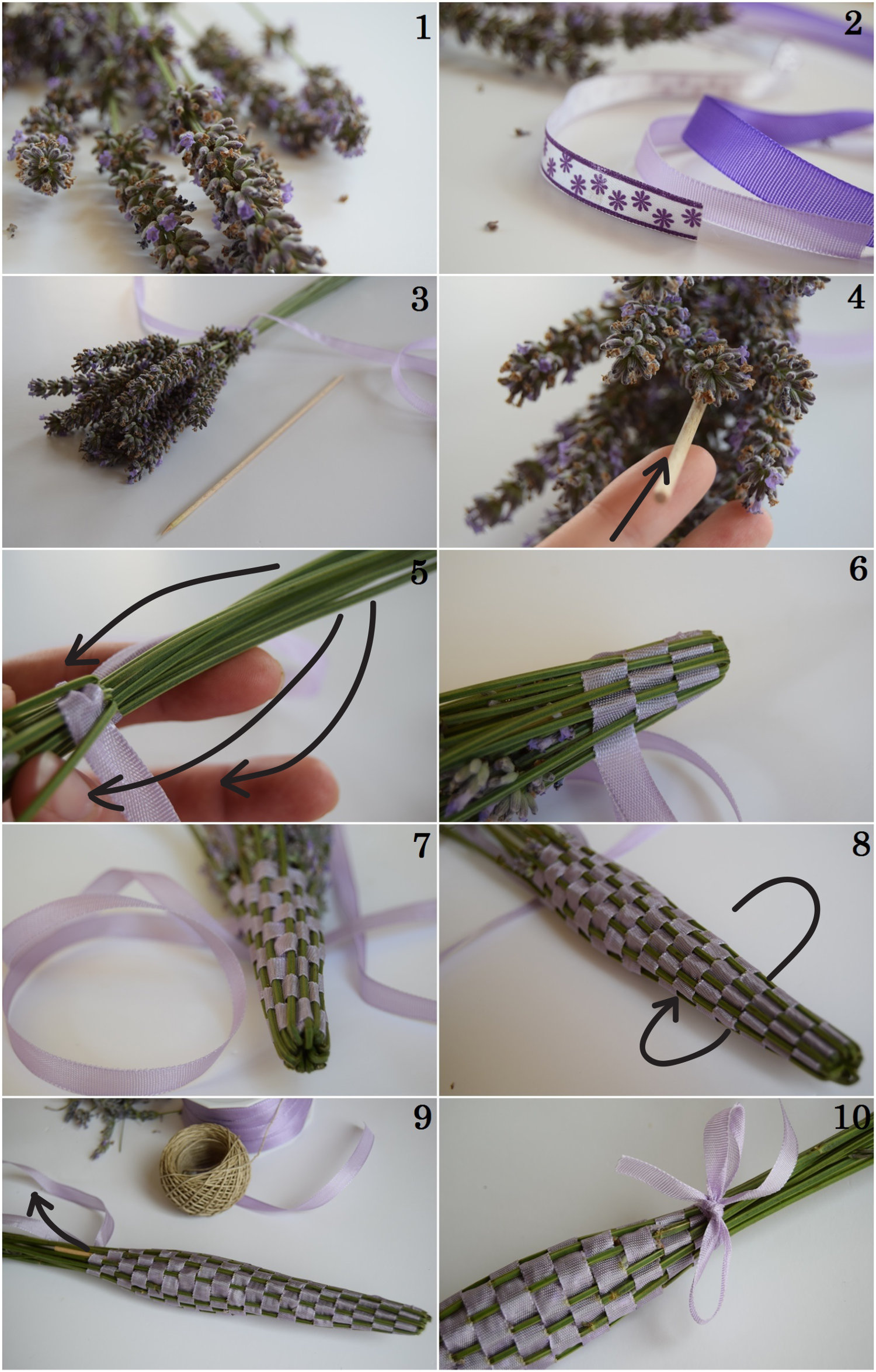 1. Collect lavender with thick, long stems and abundant blooms.
2. Select your favorite decorative ribbon.
3. Line up 13 freshly picked lavender stems at the blooms and make a knot right under them in such a way that the string to the left of the knot is 20cm long and ribbon to the right of the knot is 150 cm long. Pull the shorter part of the ribbon up among the blooms along the entire length to hide it. It must be sticking out at the top. You will need it at the very end.
4. Into the middle of a bouquet of blooms insert a wooden stick, which will serve as solid support when knitting. It will also be removed when you finish.
5. Flip the bouquet with the blooms pointing downwards. Now you will start knitting with the longer part of the ribbon (150 cm). Fold the stems from above the knot toward the blooms, so that the stems will be parallel with blooms. Then start knitting by first going with the ribbon under a stem, the second time over the next one, the third again under the stem, etc.
6, 7, 8: When you come around, the sequence is swapped by itself due to the odd number of stems (13). If you went under the stem the first time around, you will go over the same stem the next time around. This will create a pretty pattern.
9: When you finish knitting around the blooms go ahead and wrap up the stems. Use the shorter part of the ribbon to make a knot. Pull out the wooden stick, too.
10: Decorate the finish, with a ribbon, loop, knob… and under the loop leave any length of stems (8 to 10 cm) and cut them so that they are aligned. Your decorative, natural fragrance is done. 🙂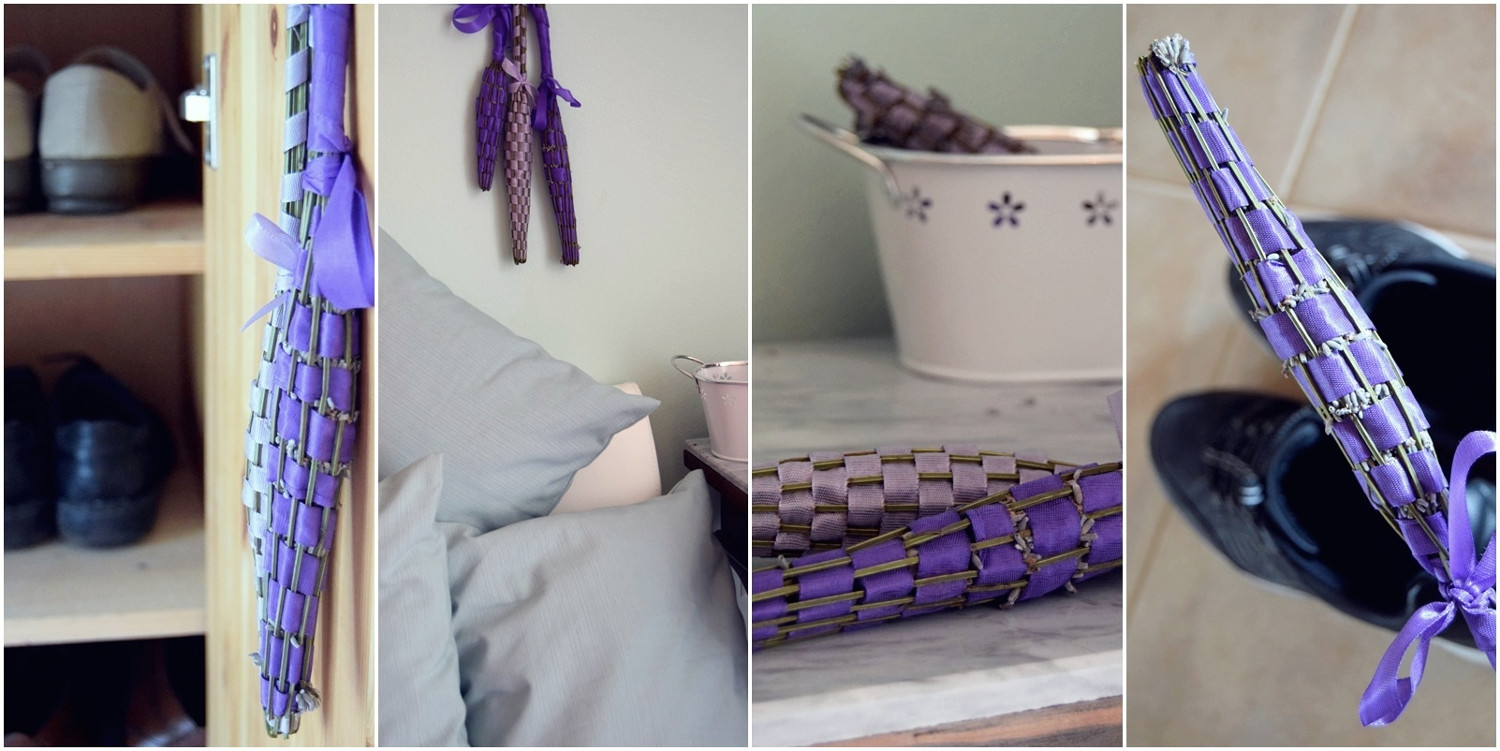 Since the lavender wand is also a beautiful decoration you can place it in a easy-to-see place and not only in a dark corner of a cabinet or wardrobe where we usually put fragrances. I've made several of them, one for the car, some for the closet for shoes and wardrobe, and two of them found their place on my night stand and above the bed.
You can also watch the video which helped me to create my wands: VIDEO
If you have a lot of lavender left over you can also make a lavender wreath. You will need a thin metal or plastic ring and string to tie lavender bouquets around the ring. It makes a very beautiful and fragrant decoration for the wall, table or door and it looks like this: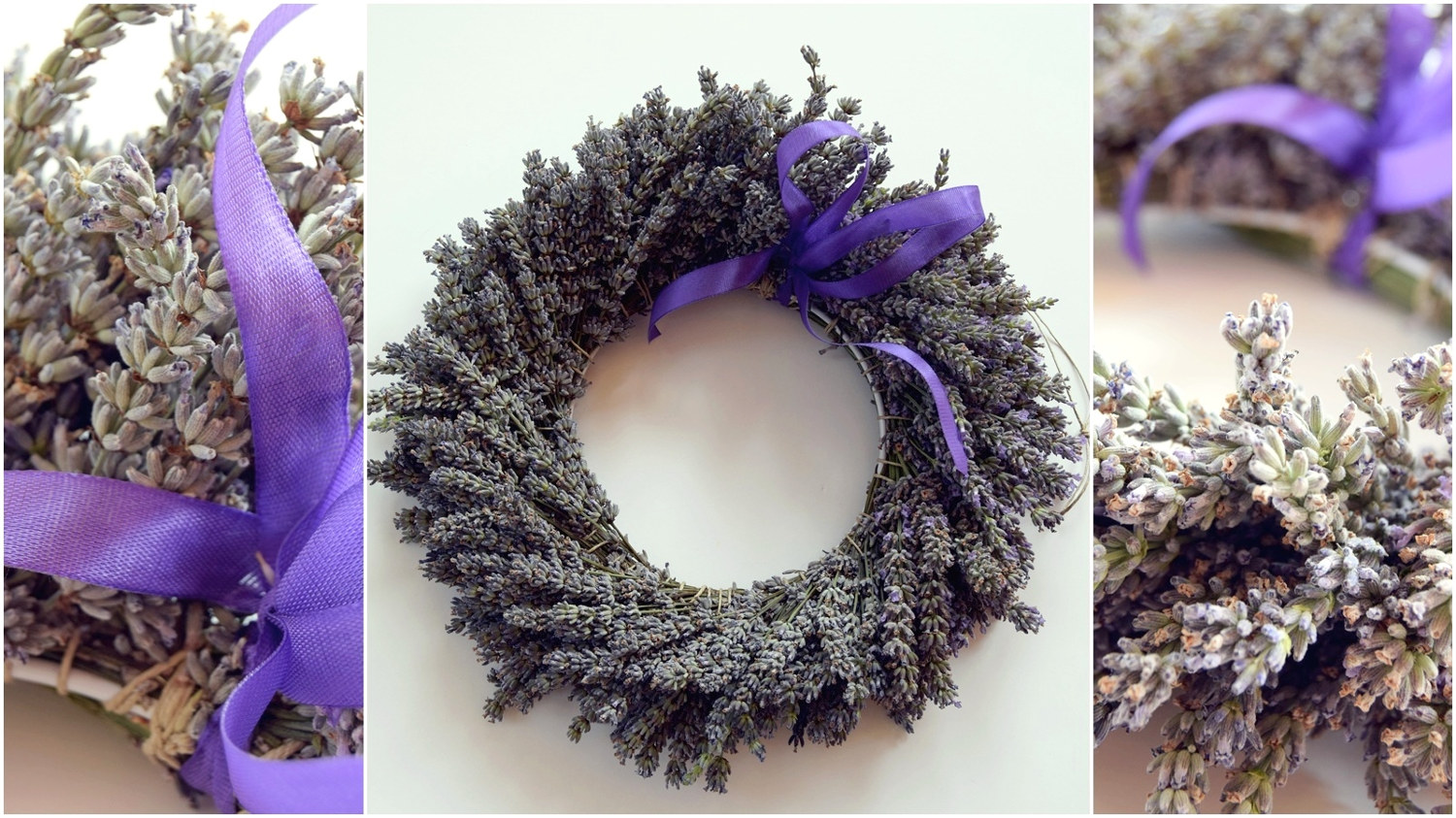 If you have the opportunity do plant a bush of lavender in your home garden, it is drought-tolerant and can thrive in high temperatures, so no excuses. 😉 I also found some nice facts about lavender, I hope they will help you with the decision to make your own lavender wand:
The Romans used lavender to perfume everything from their bathing water to bedding—and even their hair, because of its disinfecting and antiseptic properties.
Lavender has many uses, but commercially it's primarily valued for the production of essential oils. It's also a great ingredient to use for cooking meats and sweets.
Lavender oil is said to help you sleep.
Lavender will help attract bees and butterflies to your yard.
Want to keep mosquitos away? The lavandin variety is high in camphor, which repels bugs.
Lavender has been used as a headache remedy for centuries.
The essential oil also has a calming, sedating effect.