Since you really liked my Instagram smoothies I decided to share with you my top 5 most delicious and pretty ones. I also added my own recipes, so you can try them too! All of the smoothies are healthy – no sugar added. 🙂
#5 STRAWBERRY MILKSHAKE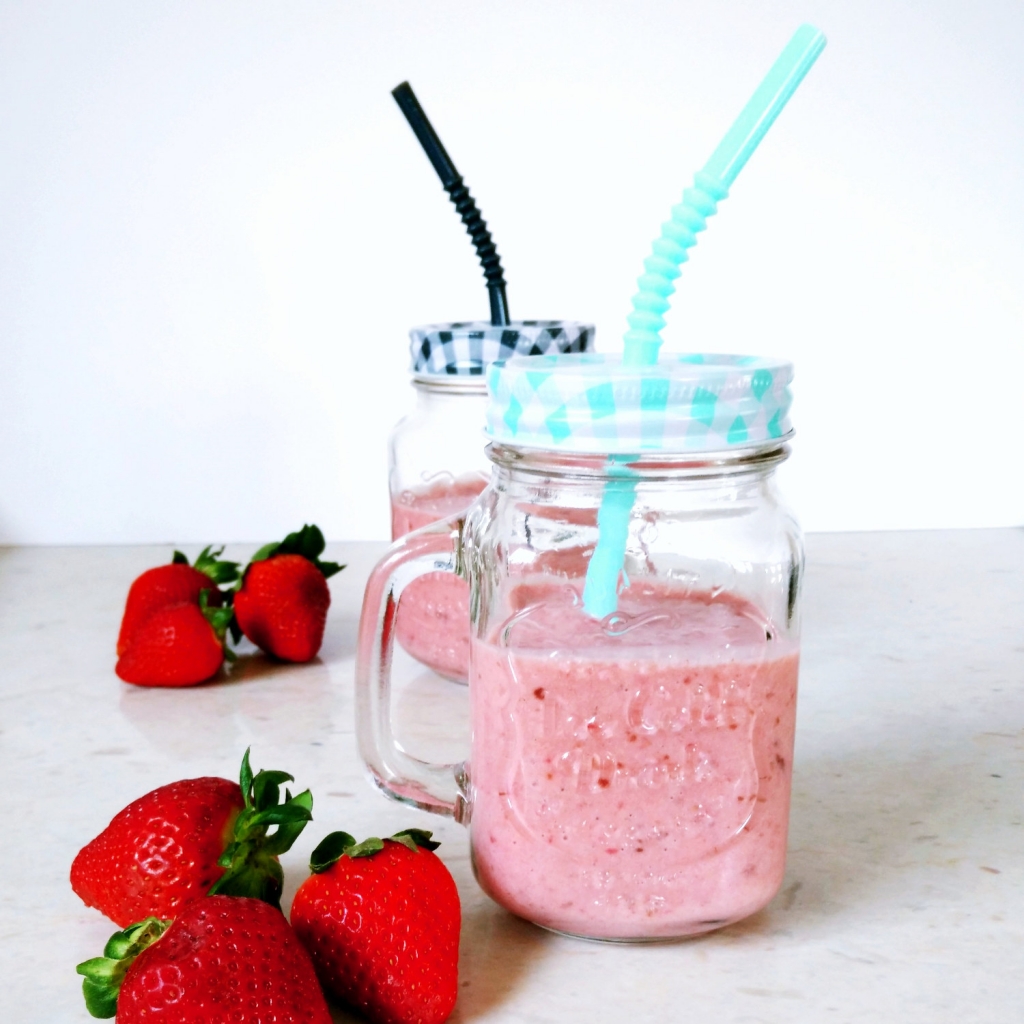 The milk-based winner is the strawberry smoothie. Well, who doesn't love strawberries? (Sorry to those who are allergic, but strawberries are one of the best fruits to put in a smoothie. ) 😀
This delicious baby is made out of:
– strawberries
– heavy cream
– greek yoghurt
– a bit of banana
I make every single smoothie by taste, so it is difficult to tell you more specific amounts. It also depends on the number of people you're going to serve. Heavy cream is perfect for making a "milk" smoothie, because it gives it a very creamy and rich taste, compared to if you were making it with milk. Add it by taste, about 3-5 big spoons per person. For and even creamier taste I add 1 big spoon of greek yoghurt per person. I add banana to substitute for sugar – about half a banana per person. Because I never add sugar in my smoothies I sweeten them with sweet fruits such as banana, dates, dried figs…
#4 CACAO BANANA
This one was my first experiment to make also a visually pleasant smoothie. 😀
Bottom layer:
– banana
– heavy cream
– pure powdered cocoa
Top layer:
– strawberries
– banana
– heavy cream
To get a nice transition, pour the top layer as close to the glass as you can, to prevent it from mixing with the lower layer.
And how to stick the appealing fruit to the glass? You won't believe how simple it is. 😀 Rinse the glass with water and cut a very thin layer from your fruit, then just stick it on the glass. Banana works best, since it's the stickiest, but you can play around with any type of fruit 🙂
And this is what happens when you unchain your creativity 😀 For this Tropical heaven you will need:
Bottom layer:
– very ripe mango
– melon
– soft kiwi
Top layer:
– nectarine
– blueberries
Tip: if the fruit is ripe enough you don't have to add water, since the smoothie will be runny on its own. 🙂 Otherwise, you can add a spoon or two of water, or if you want the milky taste, use heavy cream.
#2 STRAWBERRY & MINT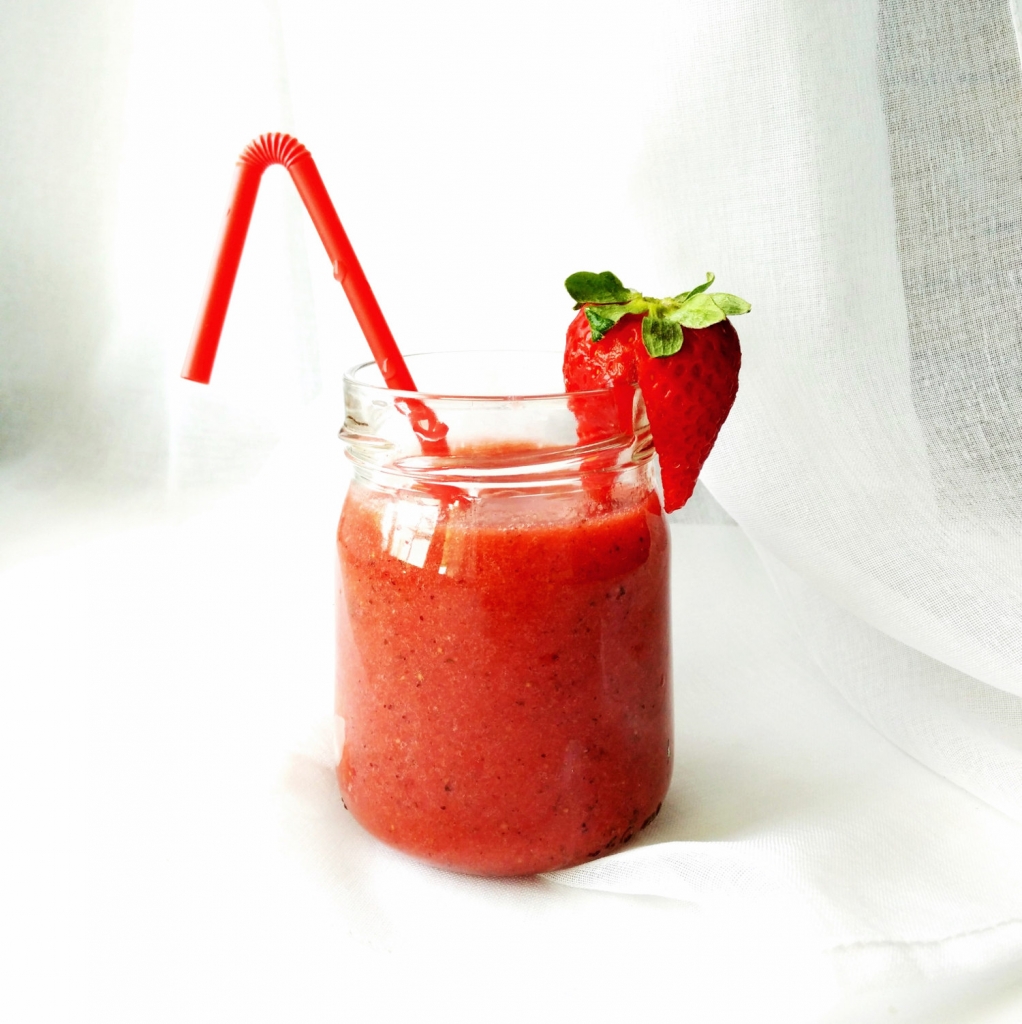 The most refreshing one for hot summer days. Made just out of:
– strawberries
– mint leaves
– a bit of water
P.S.: If you add water and mix fruit a minute later as usual, you'll get a richer smoothie, which will taste better because of its texture. 🙂
#1 RAINBOW SMOOTHIE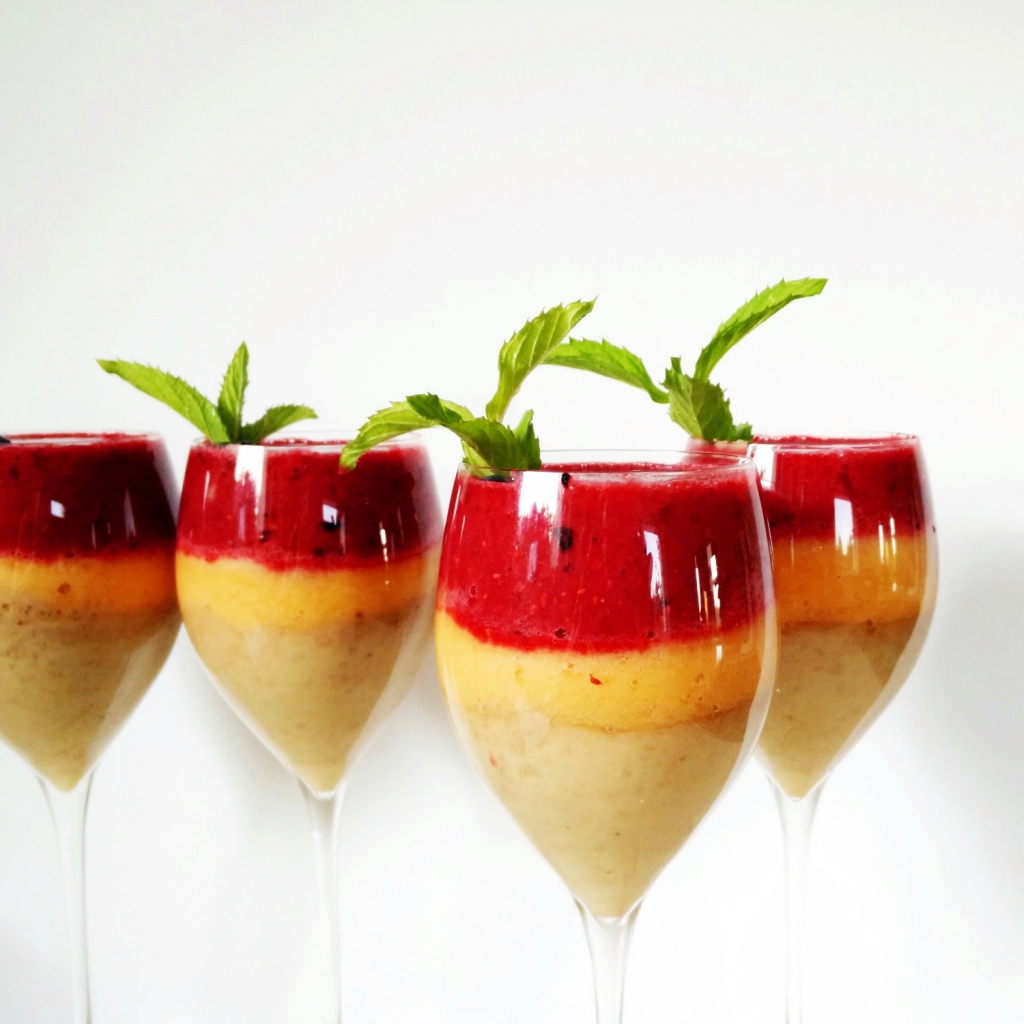 And today's winner: Rainbow smoothie! I made it for the whole family for mom's birthday celebration. For this feat you have to have good control of the layering I mentioned at the Cacao banana smoothie section 🙂
First layer:
– bananas
– a bit of water
– an apple (add a few drops of lemon if you don't want it turning brown)
Second layer:
– apricots
– melon
Third layer:
– raspberries
– strawberries
– blueberries
– peach
Topping:
– mint leaves
I hope that a few of these smoothies inspired you to make a healthy and creative summer "snack". Bon appetit! 🙂