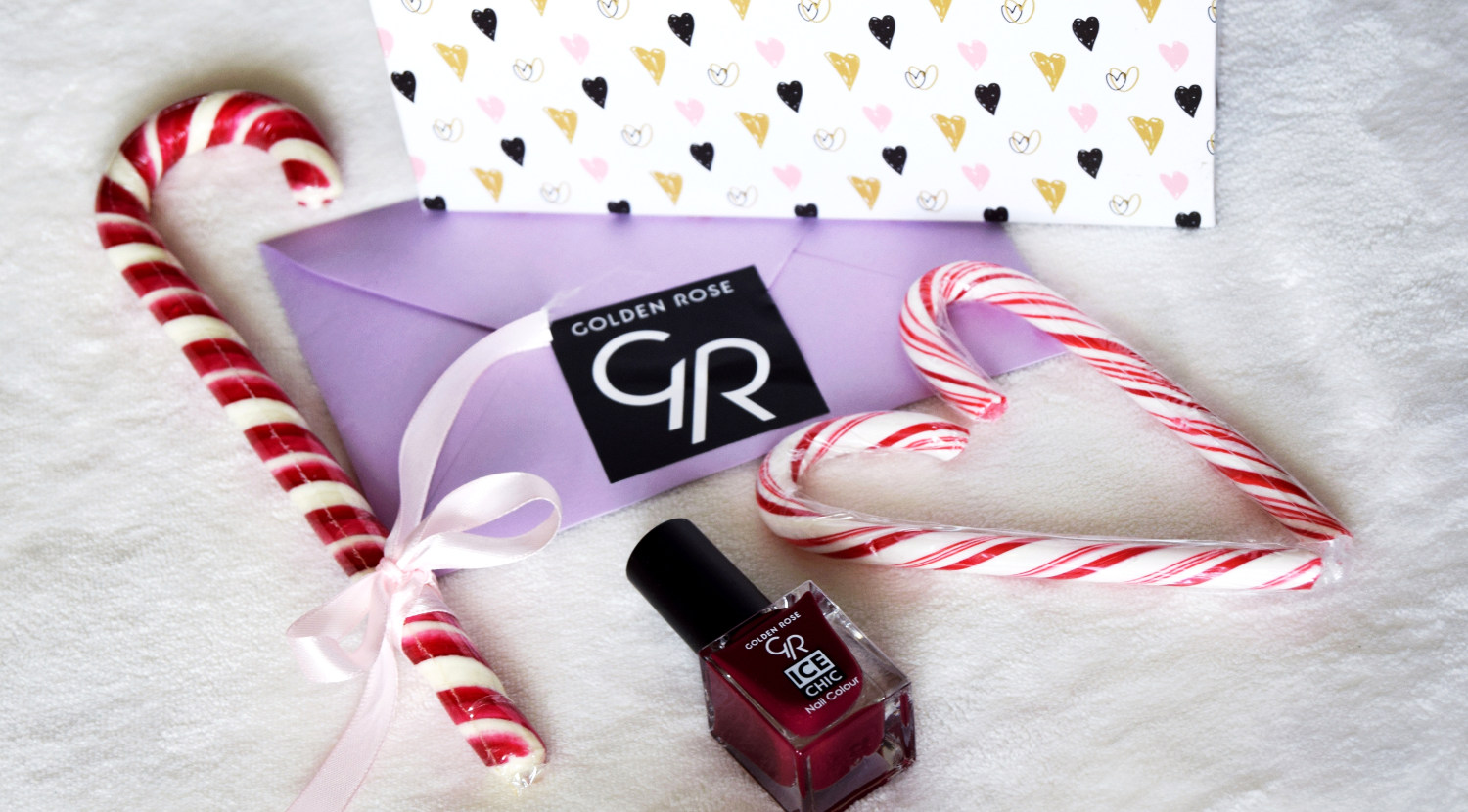 I must have been very good this year, seeing how Golden Rose Santa sent me a package full of goodies. I've decided to use them for my New Year's Eve look and share it with you. I've written about the Golden Rose brand before, when I was impressed by their Velvet matte lipsitcks and their liquid matte lipsticks. The excitement continues with their new products – check out how they work.
Golden Rose Highlighter Stick 02 Bright Pink
Highlighters in stick form are novelty at Golden Rose. Putting on highlighter is even easier now. As a highlighter aficionado I am excited about this one, since it's creamy and blends well into the skin. My favorite areas to put it is the top of my cheekbones, under my eyebrows and in the inner edge of the eye.  That's how I make my face look a bit more defined and glowy.
Golden Rose Terracotta Blush-On 09
Usually I never ever use blush, because I dislike redness on my face. That said, this pink cupcake bought me with its gentle glitter, and it spices up my cheeks just right. It has a soft satin texture and tiny shiny flakes which makes your skin look healthy.
Golden Rose Matte Lipstick Crayon 07
I looove colorful matte lipsticks and I know how hard it is to apply them accurately. I spend a lot of time applying my lipstick perfectly, so I like innovations like this one – it's lipstick shaped like a pencil, which allows for easier and more accurate application. This way I spend less time doing make-up, which comes in very handy during the morning rush. A big plus with these pencil lipsticks is also the fact that they're very creamy and concealing and they don't dry out the lips.
Golden Rose Ice Chic Nail Colour 45
Every photo in this blog is made more pretty by this shiny nail polish with a long lasting formula and cute packaging. The 45 shade is perfect for me because I like strong nail polish colors, just like strong colored lipsticks. 45 looks like a dark red shade with a bit of violet mixed in.
Golden Rose Essential Great Curl & Volume Mascara Black
The final product which immediately became one of my favorites, and is new at Golden Rose, is a mascara which curves the eyelashes with the help of its curved applicator. It separates the lashes, elongates them and creates crazy volume. So why did this particular one impress me? I'll be a bit mean and say that I hate fake eyelashes. I've worn them about five times in my life and every time I couldn't wait to remove them. Not to mention the amount of time it takes to put them on perfectly… And that glue which you feel on your eyelids the entire day… No thanks. I like make-up products that make you feel like you're not even wearing them. And if they produce the desired effect, so much the better. And this mascara does exactly that. ♡