Hello beauties!
Yesterday my friend Nika and I had a girls night out. We went to the cinema to watch Bridget Jones's baby. Btw, the funniest movie ever. 😀 We had a great time. Since I am trying some new make-up products and also wanted to try my new brushes, I decided to share with you the make-up I was wearing yesterday. Are you in?
First of all I washed my face with my new favorite cleanser from Lush Dark Angels. Then I moisturized my lips and face with Bebe relaxing care cream (smells like heaven and makes my skin sooo soft, I will totally write a blog post about this amazing product).
1: I always put the camouflage cream directly onto my moisturized face. I put it on my cheeks to hide the redness if I blush. I hate the flushed look I get if I'm too hot or too cold, so I found this technique works to conceal it. Right now I am using mostly the Artdeco camouflage cream.
2 & 3: Then I put the foundation on my face with the foundation triangle brush. My absolute winner right now is Catrice All Matt in shade 010 Light Beige.
4, 5 & 6: At the end I gave my face the definition using the Makeup Revolution contour palette. I blended everything nicely together.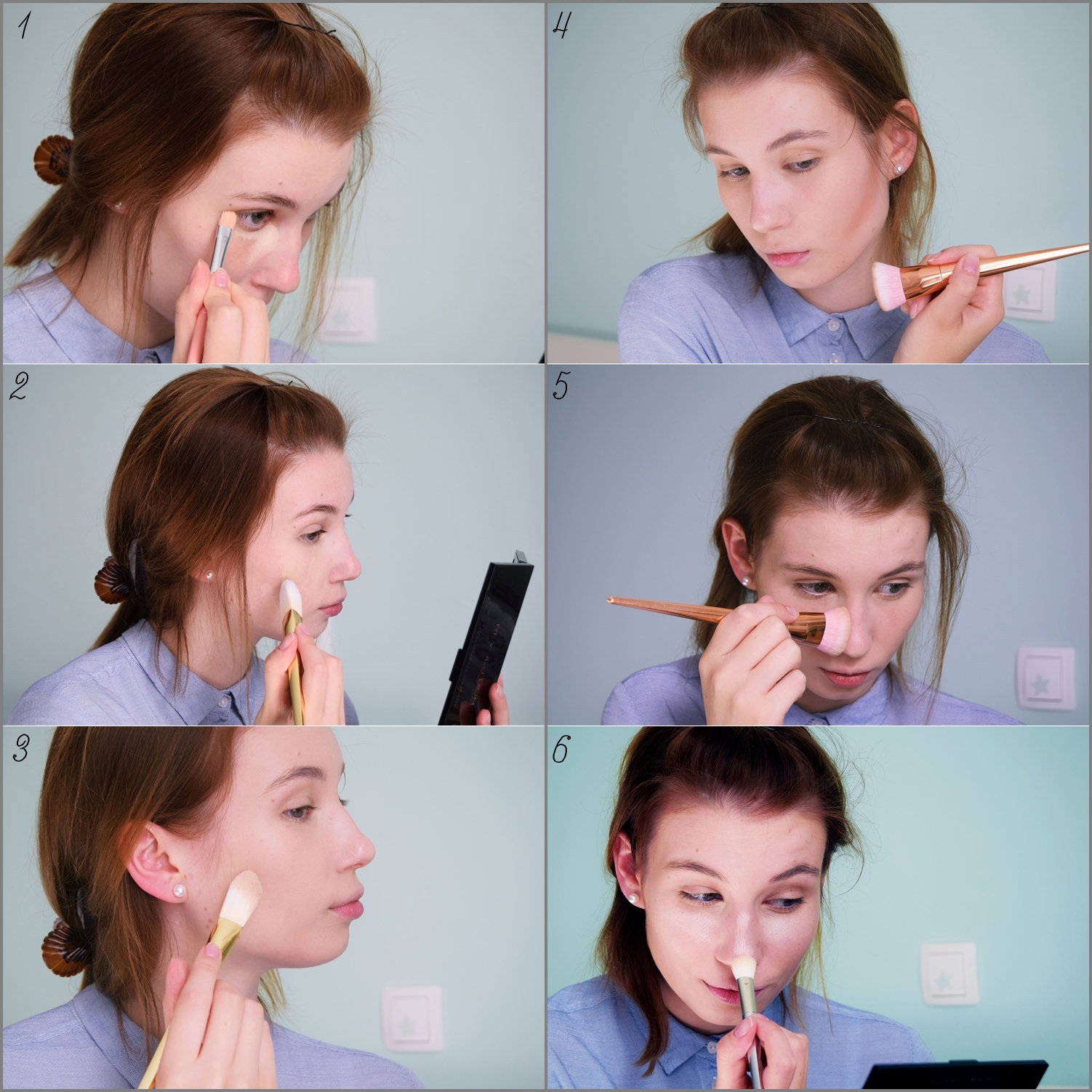 Then I went to work on my eyebrows. I'm new at doing eyebrows, I've been doing them for half of a year now? I never did that before because I didn't know that they can make such a difference on your face (don't blame me). So here we go, how have I been doing my eyebrows lately? At the start I was doing them with the Essence Eyebrow Stylist set but then I bought myself a new Eylure brow pencil in the perfect shade for my brows. It also has a highlighter on the other end. From then on I have been using this pencil exclusively. I simply draw my brows and groom them with my brow brush. Then I give them definition with a brow highlighter. 🙂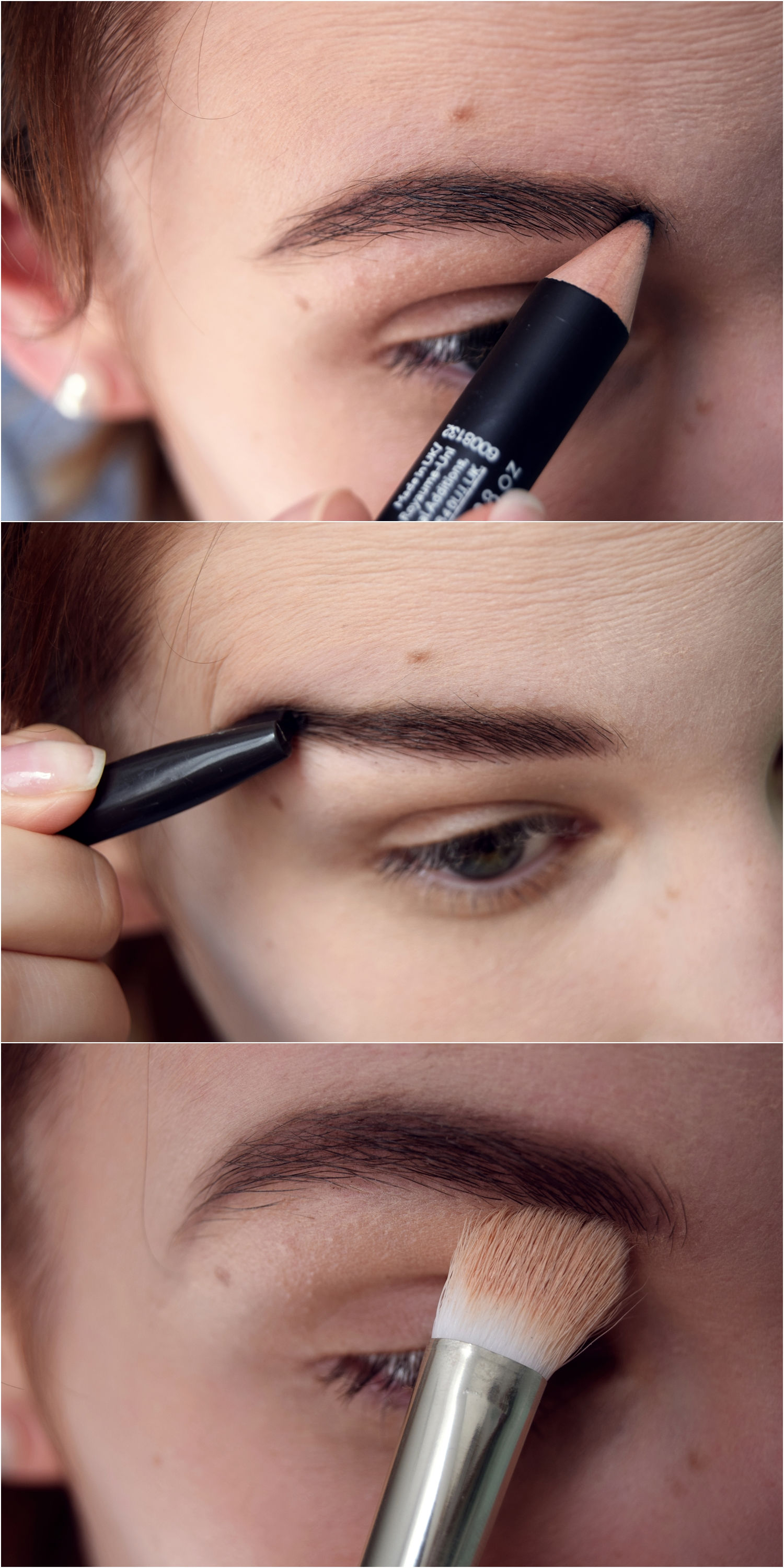 When I like my brows, I always put the Essence invisible gel mascara on them to make my work a bit more long-lasting. Then finally come the eyes. I used all the new Makeup Revolution products that I presented to you in one of the previous blog posts. I really like to experiment with the Makeup Revolution Fortune Favours the Brave palette, mixing and blending the shadows together. It can be such fun!
2: First I put the Makeup revolution eye primer on my eyelids to make the eye shadows more pigmented and longer lasting.
3: Then I started to put on the lighter shade in the corners of my eyes. I went with bronze and gold, I really like those metallic shades lately.
4, 5, 6: I also used some of the darker eye shadows and blended it all together with the blending brush.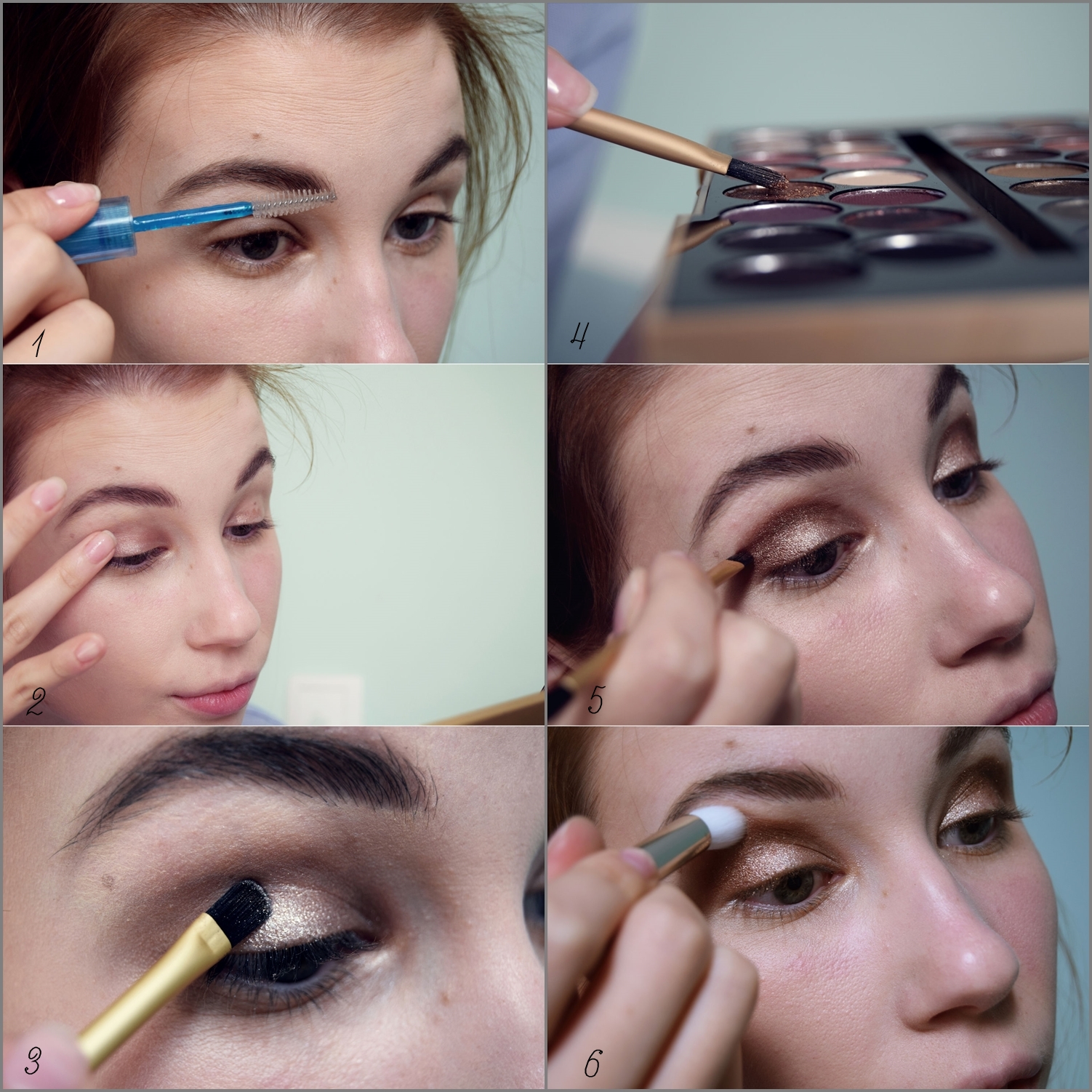 Then I made a line with the black eye shadow, to make my eyes more pronounced, and added the Makeup Revolution mascara at the end. I've been using this mascara for a month now and I'm really starting to love it. I hate mascaras that start cracking or leaving black spots on the top of my eyelids so I look like a panda and I have to constantly check my face in the mirror during the day. With this one I have no problems with that. I still can't believe it cost less than 3€.
Eyes are done, here's how they looked. 🙂
The last step are the lips. I decided to go with a darker shade, because the eyes were actually made quite gentle and shiny. And to be honest, autumn is almost here and it is my favorite time of the year, so this color on my lips was a must. Lipstick is from Makeup Factory shade 420 Dark Aubergine. I used it in this blog post too.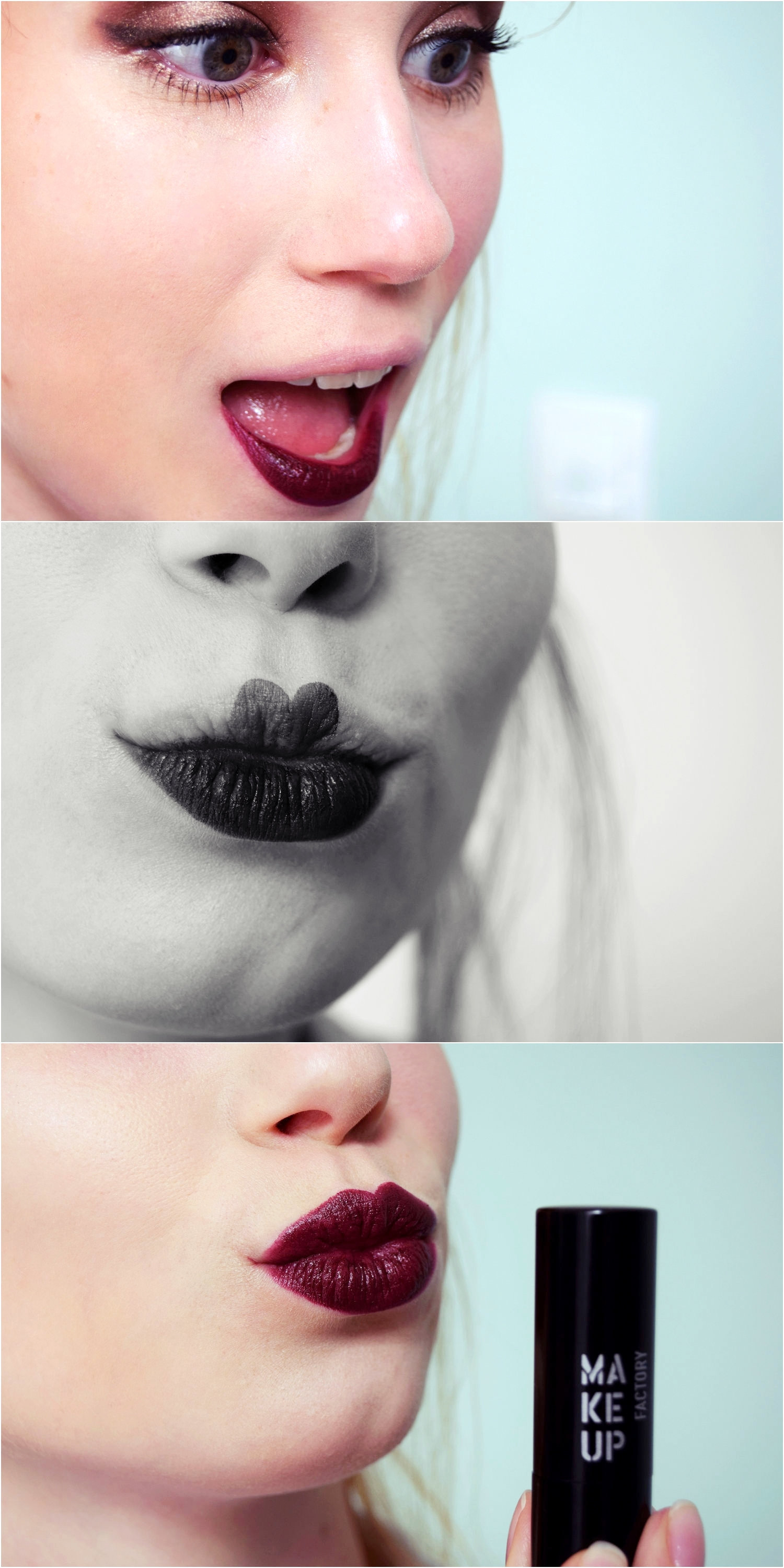 And voila, the look is done. Tell me what you think about this kind of make-up themed blog posts / tutorials. Because I really enjoyed making this one. 🙂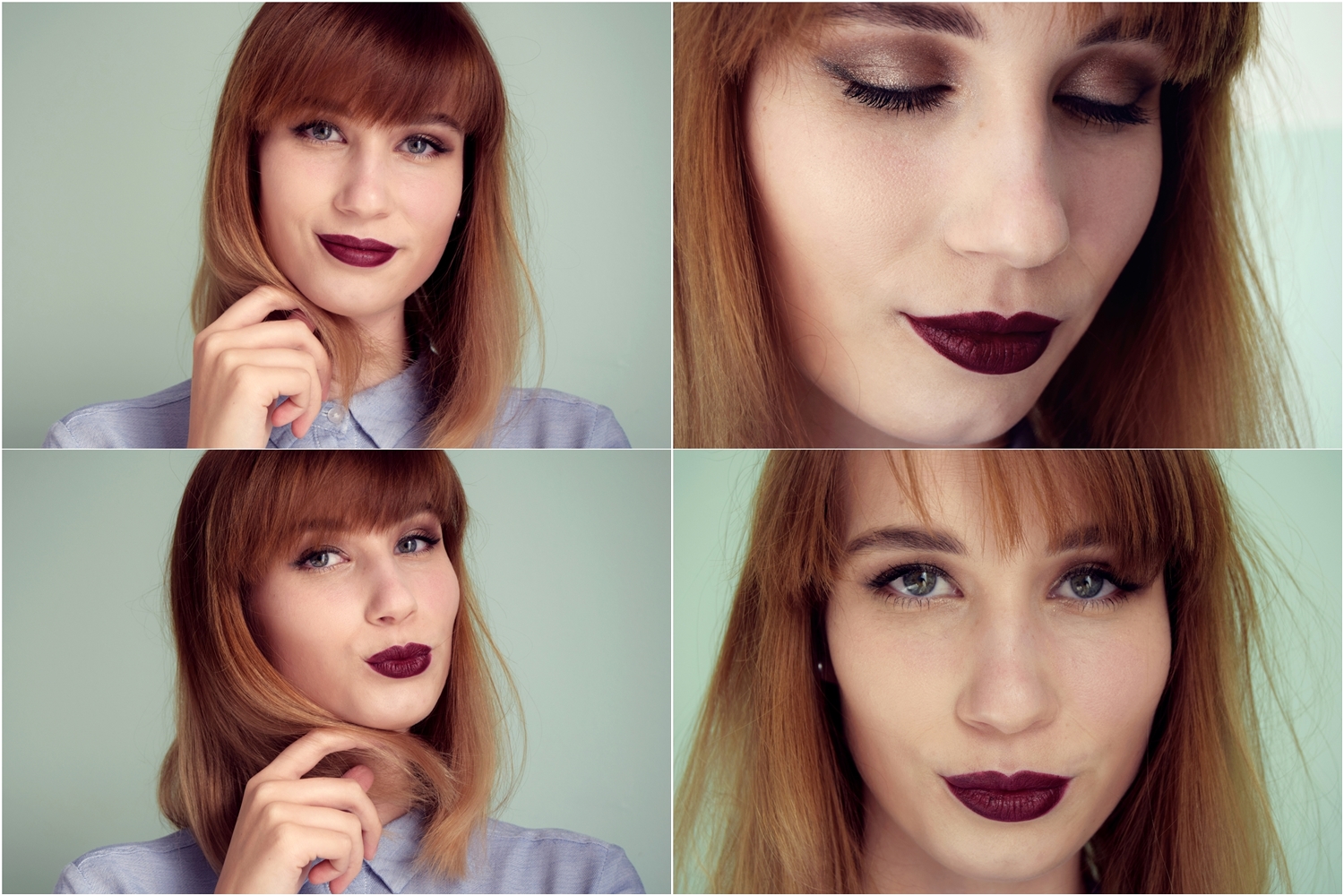 ♥